GUEST POST:  Check out the "Monday Money" blog series posted the first Monday of every month!
As a artist, you should always be looking for different ways that your music can work for you.  It's great to have several revenue sources for your music.  You work hard at your craft so why not take advantage of all opportunities to show it off, especially if you can receive income for it too!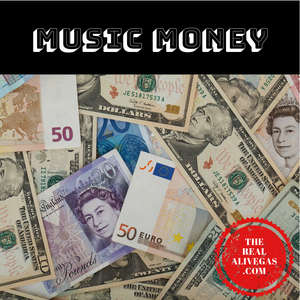 Musicians are just as human as the next person and life happens.  You need to book studio time, your car needs a new part, you need new clothes for a video shoot, you also need to get your hair cut or styled too, you need to  buy plane tickets to perform at a show you just booked, and your mortgage or rent is due tomorrow.  Professional and personal expenses never end, so how can you juggle all of these expenses while working on a successful music career?  Develop multiple revenue streams!
Here are some ways to create multiple revenue streams for your music:
Streaming
Although the payout for streaming can be very small, every penny counts!  With the creation of playlists, streaming is also a great way to increase your exposure.  Check out distribution websites like TuneCore and start streaming your music.
Digital Downloads
Digital downloads are a great revenue source when you sell your music directly to your fans through your website.  This way cuts out unnecessary fees that would usually reduce the amount of money in your pocket.
CDs
I know you probably laughed when you saw CDs, but you shouldn't cross CDs off of your list!  They're very cheap to produce and great to sell at live shows.  They can also be sold as souvenirs if you want to sign them and sell them on your website and at live shows too.
Physical Merch
There are so many physical merch options that you can make money from - clothing, accessories, buttons, stickers, posters and more.  This is another option that can be sold on your website and at live shows. 
Digital Merch
Like with physical merch, there are many digital merch options that you can sell on your website - videos, documents (i.e. lyric books), exclusive photos / wallpapers and more.
YouTube
There are a couple of ways to make money from YouTube.  When videos with your song are played, you can make money off of each play.  Also, when you have a YouTube channel or any other YouTube channel plays your videos and have ads on it it can produce revenue for you. TuneCore also has a service that collects money from YouTube for artists.
Performing Rights Organization
It's great to sign up with a Performance Rights Organization (PRO) because they collect royalties for you every time your music in played in a public place such as on TV, in malls, radio, sports arenas and more. ASCAP is one PRO that you can sign up with.
Digital Royalties
When your music is played on streaming stations (such as SiriusXM, Pandora, Spotify) that are non-interactive you are to get royalties.  SoundExchange can collect your non-interactive digital royalties so don't forget to sign up with them.
Live Performances
When you perform your music live, you can collect royalties from your PRO.  Reach out to your PRO to find out how.
Your Website
Last but not least, as we mentioned a few times in this post, you should have your own website to display and collect revenue from your music.  Having your own website is a must because you own everything on your website, and you eliminate a lot of fees selling directly to your fans...that means more money in your pocket!
We hope you found this list of revenue sources useful, and you now have more ways to collect revenue for your music!
If you need more advice on how to increase your music revenue reach out to us today and sign-up to our mailing list to receive more tips like this.